The recent trend in naked cakes has been on the rise and why not? If done correctly, a naked wedding cake can be etched in your guest memory for years to come. Here are 12 tips for making a naked wedding cake that I'm sure you will find useful
Jump to:
What is the best thing about a naked cake? You get the best of both worlds, cake, and frosting and yet, not too much frosting. To some of us it's a big deal. I do love frosting and I love cake but not overly loaded with frosting.
In fact, years ago when I started my very first customer complaint about a cake was that had less frosting. Since then, I've had to consciously take note of how much frosting I add to my cakes. I remember I used to measure 1 cup frosting in between every 6-inch layer cake.
Make your own Naked Wedding Cake
We are not all incredible bakers or cake decorators so baking and decorating a cake from scratch can be very intimidating. A naked cake if done tastefully can be better than any fancy decorated cake. So, if you want to make your own wedding cake try a trendy naked cake. Choose elements that complement the season or you as a couple.
I always say - cake decorating is not difficult but it is time-consuming and it does call for some basic cake decorating knowledge.
Below, I have listed 12 tips that I think you will find useful if you attempt your naked wedding cake. I have also included resources that I think you will find useful at the bottom of this post. Feel free to ask any questions you have in the comments below.
12 Tips for making a naked Wedding Cake
1. The right baking time.
Most people are surprised when they hear that cake decorators bake their cakes at least 3 to 4 days ahead of the event. This is because they need time to decorate the cake. Some cake decorating elements can be very time-consuming.
However, with baked naked cakes, you don't want to bake more than a day or two in advance. This is mostly because you don't want to dry out the cake.
2. Prepare your pans carefully
Naked cakes don't get covered with frosting or fondant so there is no hiding any imperfections. While e have to embrace imperfections we still want to bake a perfect cake. So, the baked cake needs to be flawless and one way to achieve that is to ensure you prepare the pans for baking properly.
Always, grease line and dust the pans on the bottom as sides of the pan for easy removal. Dust chocolate cakes with cocoa powder instead of flour.
3. Measure the batter
Since we need to bake a perfect naked cake we also want to ensure they are all the same size. So if your eight-inch cake has three layers the best way to ensure you have three similar layers is to measure the batter when diving it into three. That way you know you will have three perfect layers and won't lose too much in trimmings.
4. Sugar syrup the cakes
The disadvantage of naked cakes is that there is no frosting to lock in moisture. The longer it sits out the dryer it can get. This is why you need to give it a good brush with simple syrup.
Simple syrup is not just sugar and water but can be customized for each cake by adding liquors, coffee, juice, etc. While you want to brush the cake you don't want to have it dripping wet. So a good brush not soak is the right word here.
5. Level and torte cake carefully
No matter how well you measure your batter when baking the cake there is no doubt you will still need to level and torte the cakes.
One of the biggest issues faced with novice bakers is the tendency to cut too much. Always measure carefully, check twice before you cut into the cake with that knife. Unlike other cakes where you can cover flaws with frosting, a naked cake shows off all those cuts.
6. Choosing the right cake, filling and frosting.
A naked wedding cake will need to be out for a few hours at least. The cakes will need to endure the weather as well as the weight of the filling and frosting. So the choice of cakes, fillings, and frostings are very important.
There are plenty of good fillings to choose from but stay away from ones that are too soft like vanilla pastry creams and whipped cream-based. These can leak out of the cake when kept out of the fridge for too long.
Swiss meringue buttercream, American buttercream or ganache are perfect frostings for naked cakes. Avoid using perishable frostings like French buttercream, cream cheese, or whipping cream. These can be a messy affair even in good weather.
7. Use the right tools
I'm no slave to tools but my years of experience have taught me that the right tool for the right job can be the path to perfection.
Use a serrated bread knife to torte your cakes if you don't have a cake leveler. (after all these years I still use my trusted bread knife)
Use a ruler/scale to ensure you have the same height on all cakes layers.
You will be surprised how effective using a piping bag to pipe a border of frosting around the edge of the cake. This will give you an aesthetic looking edge and will ensure the filling stays in the center.
Tip - leave a ¼-inch gap around the edge of the cake when piping the border. The weight of the top tier will push the frosting out towards the edges. This gap will help keep it within the edge
Use a leveler to ensure your cake tier is straight, not slanted.
A bench scraper works best when smoothing the sides of the cake
Cake dowels are not optional for tiered cakes. Dowels can be simple cheap bubble straws or wooden ones found at any cake decorating store or online.
8. Chilling is important
We all want to work quickly and get it over with. But, when it comes to cake decorating working at a slow pace giving each step the time it needs to relax and chill can be very rewarding and stress-free. For example.
Let the cakes cool completely after they are baked. Wrap them well in cling/plastic wrap and place them in the fridge. The chilled cake is much easier to handle when stacking compared to fresh cakes.
Wrap the cake well again after you have filled the layers. The tier is easier to handle once the frosting sets and firms up.
I always dowel chilled cake. Easier to handle and the dowel go down straight if the cake is cold and firm.
9. Dowel the cakes
As a rule, all tiered cakes need to be doweled. No exceptions. As long as there is one cake over the other the bottom cake must be reinforced with dowels.
Often novice bakers try to get away with doweling when stacking the cake. It's not difficult and it will protect all the hard work you just put into the cake.
10. Less is more with naked cakes
If you are going to make it a naked cake don't use too much frosting. Let the layers beneath that crumb coat be seen. In fact, I love leaving my naked cakes without a crumb coat as well.
11. Decorations
The decorations on the naked cake can sometimes be that fine line between aesthetic or clumsy. Just as I said above less is more. If you looking for ideas on how to decorate a naked cake think -
fresh fruits or candied fruits
fresh flowers or fresh herbs
nuts and dried fruits
macarons
chocolate decorations such as shards, curls, and chocolate bark,
meringue kisses, or chocolate kisses
sprinkles, dragees, and pearls
candy - especially during festive seasons such as Christmas cane or Easter eggs
If you add fruits as decorations add just enough so it's appealing not overloading. Same with fresh flowers. As a rule of thumb when it comes to naked cakes less is more. So, err on the side of less rather than more.
12. Timing is key
For a successful naked cake, timing is key. Don't bake too early and not too late. Don't frost too early or too late giving you enough time to chill.
Choose the right decorations - fruits and fresh flowers cannot be added too early as they will wilt.
Make a Naked Wedding Cake
The recent trend in naked cakes has been on the rise and why not? If done correctly, a naked wedding cake can be etched in your guest memory for years to come. Here are 12 tips for making a naked wedding cake that I'm sure you will find useful.
SAVE THIS RECIPE ON PINTEREST FOR LATER. TRIED MY RECIPE? SHARE IT WITH ME, PLEASE.
Share a picture of your work with me by uploading an image here below my image on this board. You can also find a collection of my tutorials and recipes here on Pinterest.
You may also like
Premium tutorials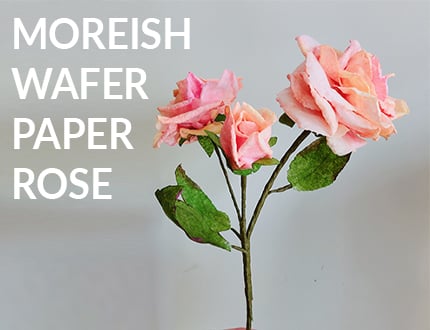 Moreish Wafer Paper Rose with Monica Cavallaro - CakeFlix
Monica from Moreish Cakes creates stunning wafer roses in her signature design called the Moreish Rose. Monica will take you through step by step how she achieves these roses and the products she uses as well.
Bamboo and Orchids Cake
In this tutorial, Serdar shows you how to make an elegant two tier cake decorated with bamboo and phalaenopsis orchids.