Valentine's Day Cakes
Recipes, Tutorials, and Inspiration
Valentine's Day cakes are always special and we are always looking for inspiration to make something new and unique. Here are a few tutorials, recipes and cakes to inspire you this Valentine's day.
Valentine's day is just around the corner and while we (me) complain that it's so cheesy and commercialized we all make plans to do something special with our loved ones on this day. Right? So here's to celebrating LOVE.
Do you really have to make a heart cake? Nah!! Personally, I do think any cake you make for your loved one is perfect as long as its' something they love. Most importantly you made it.
Here are a few tutorials and recipes that I think would be worth celebrating this valentine's day. Yes, we have both round and heart cakes as well as buttercream, fondant or naked cakes. So whether you have hours to prepare or barely any time to spare, we've got you covered.
Valentine Inspired Cake by Chelsweet
---
Heart Shape cake tutorial by Sift by Kara
includes recipe and tutorial
includes recipe and tutorial
---
Valentine Mini Hearts Cake Tutorials by Confetti Cakes
includes recipe and tutorial
Valentine Conversation Heart Cakes Tutorial - Veena Azmanov
Write your favorite message on a cake with these cute conversation heart cakes. Perfect for Valentine's Day, anniversary or engagement. Surprisingly easy to
---
Standing Heart Cake Tutorial by We Heart Cake
---
Recommended Tutorials
Elegant Techniques Cake Decorating Class | Bluprint
Create graceful, modern cakes that complement any event and anyone's taste! Mix and match more than 20 simple yet sophisticated techniques.
Clean & Simple Collection Cake Decorating Class | Bluprint
Boost your cake decorating confidence! Learn to create a collection of 30 incredibly lifelike textures and embellishments using simple techniques.
Valentine's Day Cakes - Inspiration
Cakes by - Custom Piece of Cake, Hazel Wong, Torta Maria, Av Dessert House, Maria Antonetta Motta Arcake, Nasa Mala Zavrzlama, Sweet Delights Cakery, Verity Cakes, Veena Azmanov, Unusal Cakes for you, Jean Winslow, Tortik Anuskha
The above cakes were found on Pinterest for Inspiration. Some of the cakes have been credited to their original artists. If you know the name of the artist whose cakes are not credited above - please let me know in the comments so I can update the post with the proper credit link. Thanks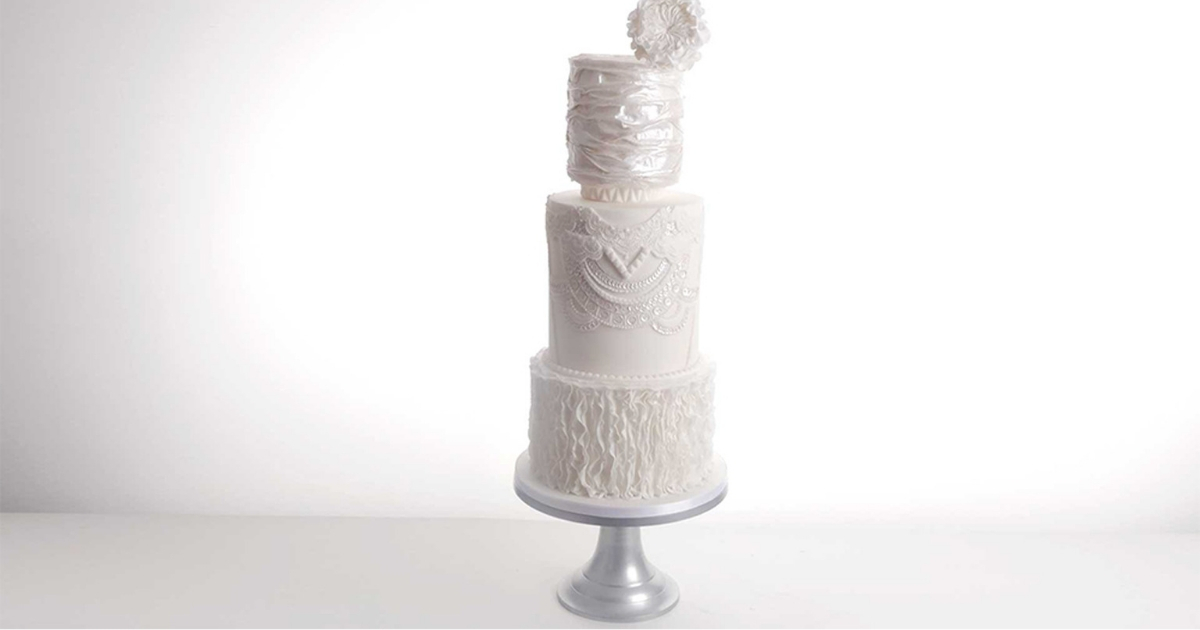 Vintage Glamour White Wedding Cake Tutorial
Learn how to make this incredible vintage glamour wedding cake with Michelle Smith. Perfect for white weddings, this is one tutorial you don't want to miss!
Fondant Frills Cake Decorating Class | Bluprint
Couture cake artist Maggie Austin shows you how to create an elegant ombre cake with her signature frill technique.
You may also like
Need cake recipes and frostings for your decorated cakes?
30 Plus Layer Cake Recipes - Veena Azmanov
Often we have a wonderful cake recipe but not the right size pan, which can be frustrating. That is why I had the calculated recipes for you. Since then, I have discontinued those PDFs. Because now you can have all my recipes calculated for you no matter what pan you have and how many servings you n…
Strawberry Red Velvet Cake - Valentine Heart Cake - Veena Azmanov
This Valentine's Day, go naked with this strawberry red velvet cake or naked heart cake. Made with a red velvet cake filled with strawberry filling & cream
30 Plus Homemade Buttercream Frosting Recipes - Veena Azmanov
Need a buttercream recipe in 5 mins? Wondering what buttercream to use? It's all here in one place. 30 plus homemade buttercream frosting recipes for you to