These David Austin Sugar Rose Tutorials are made using gumpaste or sugar paste. Learn how to make a realistic-looking rose for cakes and cupcakes with the best tutorials
David Austin Roses are from the rose flower family and are very popularly made by artists who create wedding cake flowers. These sugar flowers look a little different from the regular roses made from gumpaste but surely are a stunner on every cake
Jump to:
David Austin Sugar Rose Tutorials - Videos
Gumpaste David Austin Sugar Rose Tutorial by CakesbyLynz
David Austin sugar rose tutorial by Christinascupcakes
How To Make A David Austin Sugar Rose Using Modelling Paste by Cake Nation
David Austin Gumpaste Rose Tutorial by Aleksa Cakes
Gumpaste David Austin Rose Tutorial by Dulce C.
How to Make a David Austin Sugar Rose by Cake Me By Surprise
NO CUTTERS Sugar Rose David Austin Style - Gumpaste by The Confectionery Gallery
HOW TO MAKE A DAVID AUSTIN SUGAR ROSE by Hell of a cake
Premium Tutorial
Open Rose Tutorial - Cake Flix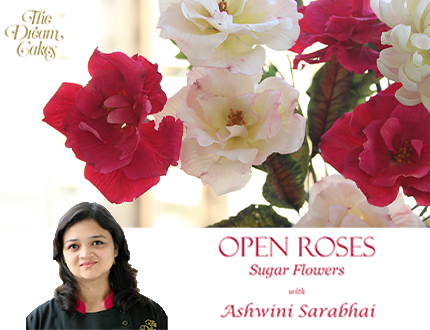 Open Roses Sugar Flowers Tutorial by Ashwini Sarabhai
Learn to make beautiful Open Roses in this tutorial from renowned Cake Artist Ashwini Sarabhai. Ashwini tells us more about open roses and all the techniques she will be teaching in this tutorial. These are such pretty flowers, sure to stand out on any cake or arrangement!
Pomander Flower Wedding Cake - Yerners Way
Colorful Pomander Wedding Cake | Yeners Way
Learn how to make a colorful pomander style wedding cake.
Images For Inspiration
So, here are a few David Austin Sugar Rose cakes and gumpaste made roses from artists around the world. These flowers make simple cakes look extraordinary. You'll be surprised to see how real they look on wedding cakes and birthday cakes in the below images
Get inspired by artists from around the world with their beautiful creations and ideas
Cakes by - Vebi cakes, avalon cakes school, cake-geek, zoe clark cakes, Yolanda Cueto - Yocuna Floral Artist, Julie, I Baked Some Cakes, Beth Evans, Alpa Boll - Simply Alpa, ElleQueue, Unusual cakes for you,
Janice Baybutt
The above cakes were found on Pinterest for Inspiration. Some of the cakes have been credited to their original artists. If you know the name of the artist whose cakes are not credited above - please let me know in the comments so I can update the post with the proper credit link. Thanks
You may also like our post on
More sugar flower tutorials