Black and Gold Cake Tutorials
These Black and Gold Cake Tutorials teach you how to make a theme cake with black and gold shades using frosting, fondant and more elements
Black and Gold is a classic combination and can never go wrong. It's perfect for birthday cakes, wedding cakes, and more special occasions. This combination is always known to be elegant but is also perfect for gothic theme cakes
Black and Gold Cake Tutorials – Videos
Check out some of the best cake tutorials we came across on the internet with black and gold theme
BLACK and GOLD BUTTERCREAM cake by Oluchi Imoh
Gold Paint Splotched Cake by Rosie's Dessert Spot
Black & Gold Cake by I Love Cakes
Black & Gold Wedding Cake by You've Been Desserted
Gold & Black Wedding Cake – with Lambeth type piping by Auntie's Cakery
Easiest Ever 3 tier Black and Gold Cake- Rosie's Dessert Spot
HOW TO MAKE BLACK BUTTERCREAM by CAKES BY MK
Simple Black and Gold Birthday Cake by cakeplazaofficial
How to make a black and gold drip chocolate cake by Ross Paris Cakes
How's To Make A Marble Agate Fondant Cake by Learn to Cake it With Lyza
Premium tutorials
Black and Gold Glam Cake
Learn how to make a Baroque style glam wedding cake with isomalt decorations.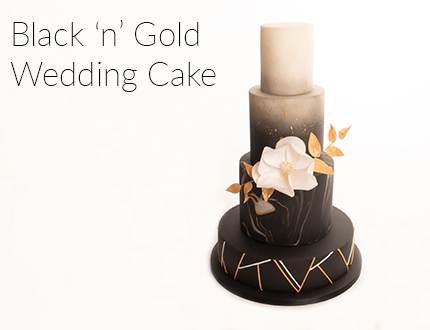 Black 'n' Gold Wedding Cake Tutorial by Paul Bradford – CakeFlix
Learn how to make this fantastically gothic Black 'n' Gold wedding cake with the multi-award winning Paul Bradford. This cake combines a gothic look with a modern twist and plenty of variation, you don't want to give this a miss!
Images for Inspiration
Below are a few theme cakes made in black and gold theme made by artist from around the globe. Get inspired from the beautiful creative work they've done and find ideas for your next cake project
Cakes by – davidscustomcakes, Barbie, lhcakery, vanillabeancakeryofficial, Essentially Cakes, Sugarzest, robynlovescake, Rumana Jaseel, Albena, jaimegerardcake, simoneamaral
You may find the below post interesting as well