How to Make Fondant Ruffles on Cakes
Ruffles on cakes are always in trend. There were in trend 10 years ago and will continue to be so 10 years from now because everyone loves ruffles. You can make fondant ruffles in many variations and here are the best videos just for you.
Ruffles are the perfect design for a girl's cake no matter what ate. Whether she's five or fifty a few ruffles are bound to lift her spirits.
---
How do you make ruffles on cakes?
Did you know that ruffles can be made is so many different ways?
You can cut strips of fondant thin them out and attach them to the cake.
You can cut circles, thin the edges, then pinch them to create a ruffle and attach these to the cake.
And you can also do the same with petals, as well as square pieces of fondant.
What paste do you use to make ruffles?
I find the best paste to use for ruffles is a mix or 50% fondant and 50% gumpaste. The gumpaste ensures we can roll the paste thinly and still thin them further with a ball tool. The fondant keeps them soft so they don't become hard and difficult to eat when the cake is cut.
6 Tips for making fondant ruffles
Cover the cake in fondant and let the cake airdry before you attach the ruffles. The drying helps the fondant set around the cake so you can press the ruffles firmly and they won't fall off. ( I usually leave the cake overnight to dry off)
Prepare your colors a few hours ahead of time. This helps the gelatin in the paste set again and it's not so sticky and soft to roll and cut and you won't need too much flower.
Ruffles are delicate and bouncy giving you the feeling of light and airy. So roll the fondant thinly. No one likes big fat ruffles.
Cut the fondant with clean edges. Use sharp pizza wheels or cutter. The shaggy edges when thinned give an untidy look.
This the edges of the fondant this will add that feeling of lightness to the ruffles
Ruffles take long (hours). Either work in batches or take breaks.
Useful Tips for Materials and Tools
How to Make Fondant Ruffles
How to Make Fondant Petal Ruffles
Fondant Rose Ruffles
Fondant Ruffles with Molds
---
Premium Tutorials
Fondant Frills Cake Decorating Class | Bluprint
Couture cake artist Maggie Austin shows you how to create an elegant ombre cake with her signature frill technique.
Wrap Wedding Cake - Cake Flix
Simple Wrap Wedding Cake - CakeFlix
Learn how to make a simple wrap wedding cake with expert video tuition from top cake decorator Danielle Gotheridge. Join now to access 100s of free lessons.
Ruffle Rose Cake - CakeFlix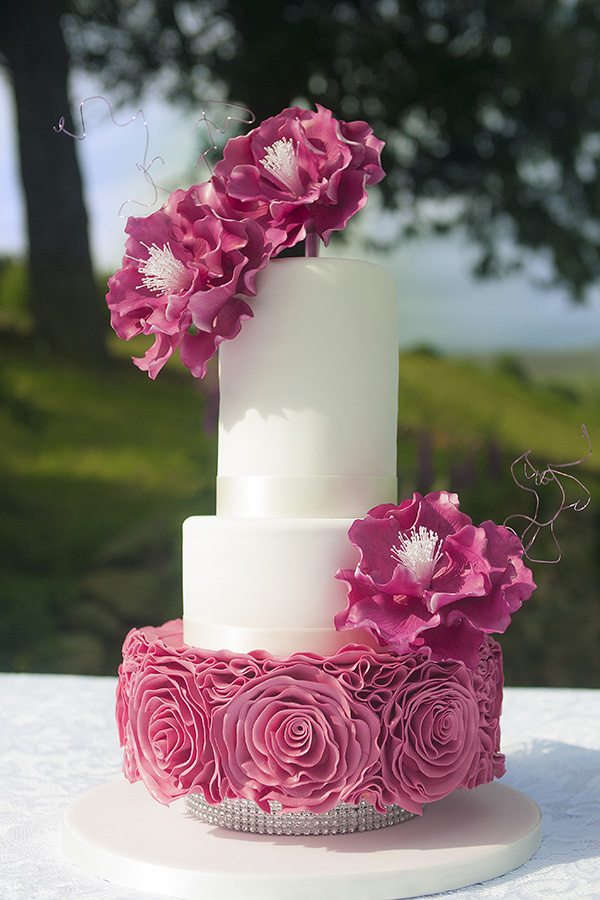 Ruffle Rose Wedding Cake - CakeFlix
Learn how to make a ruffle rose wedding cake with expert video tuition from top cake decorator Paul Bradford. Join now to access 100s of free lessons.
Gallery - Ruffle Cakes for Inspiration
Cake Credits - Vintage Blossoms Cake, Cakes by Carol, For the Love of Cake, Blue Bell Kitchen, Bellaria Cake Designs, Maggie Austin, Cake Me to Your Party, Sweet Strings,
The above cakes were found on Pinterest for Inspiration. Some of the cakes have been credited to their original artists. If you know the name of the artist whose cakes are not credited above - please let me know in the comments so I can update the post with the proper credit link. Thanks
You may also like
Fault Line Cake Tutorials
Have you seen the recent trend with fault line cakes? These are almost everywhere and going viral. It started off with some really simple designs but some of the recent ones just blew my mind. So I thought I must share these with you. Cake Recipes for Fault line cakes The best part? There is...
Glossy Korean Buttercream
The new trend in buttercream flowers is this Korean buttercream recipe that glossy but dense and firm. Similar to a meringue buttercream this is egg white-based and the original recipe is made using the Italian meringue method.